In these pages on Glasgow, you'll find two unique memoirs. 'The Old Asylum in the Woods' is an intimate account of growing up in the shadow of Woodilee Hospital by author of The Gracekeepers and The Gloaming, Kirsty Logan. 'A Glasgow Sang' is a deeply personal journey on foot through the city, from Kelvin Way Bridge to George Square to the statue of La Pasionaria, by Paul McQuade
Out There: An Anthology of Scottish LGBT Writing
In the year that Scotland voted on independence from the rest of the UK, Zoe Strachan edited a definitive anthology of prose writing from Scotland's leading and emerging gay writers, including the likes of Ali Smith, Louise Welsh, Jackie Kay, Ronald Frame, Toni Davidson and many others. Paul McQuade contributes 'Per Aspera ad Astra'.
Paul McQuade's debut story collection, forthcoming in 2020. More information soon.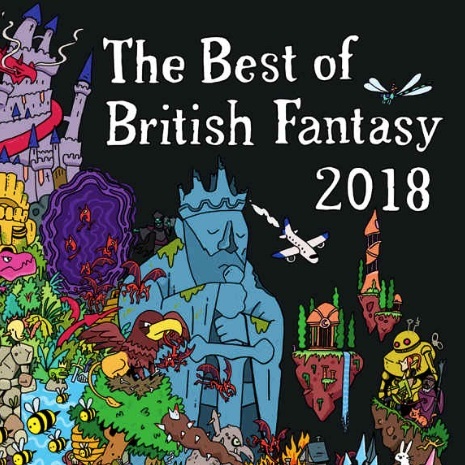 The Best of British Fantasy 2018
The Best of British Fantasy contains over twenty brilliant stories of the strange and fantastic. These stories range from traditional sword and sorcery to contemporary fantasy, written by a mix of established fantasy authors, new voices, and even those who are not usually associated with genre fiction. It comes packed with mermaids, impossible quizzes, sorcerous rogues, magic swords, towering monsters, ghostly lovers, unreachable islands, numerous apocalypses, a particularly irritating local councillor, and bees.
Best British Short Stories 2019
This new series aims to reprint the best short stories published in the previous calendar year by British writers, whether based in the UK or elsewhere. The editor's brief is wide ranging, covering anthologies, collections, magazines, newspapers and web sites, looking for the best of the bunch to reprint all in one volume.
Haunted Voices: An Anthology of Gothic Storytelling from Scotland
Haunted Voices – a bold and ambitious anthology in both text and audio – showcases some of Scotland's best oral storytellers, from archived stories of past masters to the work of contemporary performers, and their most disturbing tales of terror.

Expect monstrous tongue-eaters, shadowy demons, haunted video tapes, wicked priests, strange shapes in the darkness, a retelling of Poe's The Raven… and more!